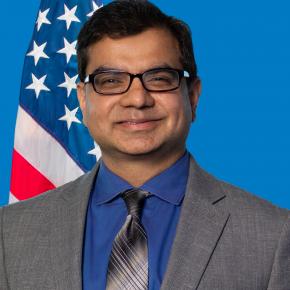 Manager, Office of Information Security and Privacy, Federal Aviation Administration (FAA), USA
Siddharth (Sidd) Gejji is a Manager in the Federal Aviation Administration (FAA) Office of Information Security and Privacy, within the FAA Office of Information and Technology.  Mr. Gejji leads the Aviation Ecosystem Stakeholder Engagement Branch, which is a team of experts responsible for conducting cybersecurity stakeholder engagements throughout the Aviation Ecosystem, including in the Airlines, Airports, and Aircraft areas.  
Mr. Gejji serves as a Tri-Chair for the U.S. Aviation Cyber Initiative (ACI).  The ACI is a US Government task force with Tri-Chairs from Department of Homeland Security (DHS), Department of Defense (DoD), and FAA.  Mr. Gejji and his team support this important interagency mission to reduce cybersecurity risks and improve cyber resilience to support safe, secure, and efficient operations of the Nation's Aviation Ecosystem.
Mr. Gejji also leads the FAA's participation in planning and executing global cybersecurity engagements, including with EASA, ICAO, and with individual countries and regions.

Prior to his current engagement, Sidd spent 12 years in various roles at the FAA, most notably in the FAA Office of Policy where he served as an Acting Manager of the Systems and Policy Analysis Group.  He also spent a year on detail to the U.S. Senate Commerce, Science, and Transportation Committee. 

He is a graduate of Carnegie Mellon University where he received a B.S. in Information Systems and Management, and has a Masters degree from the Kennedy School of Government at Harvard University.