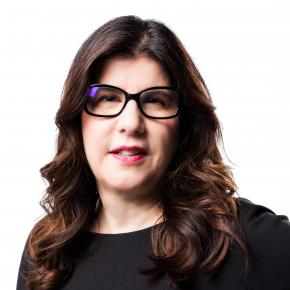 Corporate Vice President of Security, Compliance & Identity (SCI) Business Development, Microsoft, USA
As Corporate Vice President of Security, Compliance & Identity (SCI) Business Development at Microsoft, Ann Johnson oversees the long-term investment and partnership strategies for security, compliance, and identity for one of the largest tech companies on our planet.
Driving the evolution and implementation of Microsoft's short and long-term security investment and strategic partner roadmap, she has become a recognized thought leader on cybersecurity and a sought-after global speaker and digital author specializing in cyber resilience, online fraud, cyberattacks, compliance and emerging security. 
From the way the tech industry is tackling cyber threats to the language it uses to communicate, Ann is challenging traditional schools of thought - traditional cyber-norms - and encouraging the industry to get outside its comfort zones and expand how we address the evolving threat landscape by combining technology and the power of people. As a global cybersecurity influencer and strategist who regularly engages with C-level decision makers, she is looking past the pandemic at how today's cybersecurity investments will impact tomorrow's cybersecurity reality. 
Prior to joining Microsoft, her executive leadership roles included CEO of Boundless Spatial, President and COO of vulnerability management pioneer Qualys, Inc. and Vice President of World Wide Identity and Fraud Sales at RSA Security, a subsidiary of EMC Corporation. She holds a Bachelor of Science from Weber State University with a dual major in political science and communication. She has completed the majority of the required coursework toward her MBA with a concentration in statistics. 
Dedicated to giving back to her community, Ann currently serves on the boards and as a board advisor of the Security Advisor Alliance, the Financial Services Information Sharing and Analysis Center (FS-ISAC), Executive Women's Forum, HYPR (a biometric security firm) as well as the Executive Sponsor of the Microsoft Women in Security Group and co-executive sponsor of Microsoft GLEAM. In addition, she dedicates her philanthropy - in terms of time and fundraising - to animal and youth causes. She is also the host of Afternoon Cyber Tea with Ann Johnson, a weekly cybersecurity podcast series where she talks with some of the biggest cyber influencers in the industry.